News from the world of fairs
Fun Fair news from around the country
Irvin Leisure supports St. John's Hospice
Irvin Leisure was proud to be apart of such a great occasion and helping with raising money for St. Johns Hospice and looking forward to future events.
---
Money raised for Princess Alice Hospice
Fair's fares for Hospice funds
Hundreds of people were taken for a ride over the Easter break – and they even paid for the privilege.
A special charity day at Hampton Court Green funfair raised a whopping £2,000 for Princess Alice Hospice – the profits from a rides discount wristband scheme.
Funfair boss George Irvin, who has regularly supported the Hospice for the past few years, said he was a keen supporter of local charities wherever the funfairs visit – with the Hospice being a cause close to his heart, and one he admires.
This week, the donation was handed over at the Hospice, where Partnerships Fundraiser Beth Sadler said: "The funfair charity day is a really good idea – people can have fun and donate at the same time – and it means traditional entertainment like the bank holiday fair, is supported by families in our area.
"Generous donations like this mean the Hospice continue to provide outstanding care to our patients in the Hospice and out in the community."
Photo shows - Shane Clark from Irvin Leisure hands over the cheque to Hospice Partnerships Fundraiser Beth Sadler
---
Roller Skate Rinks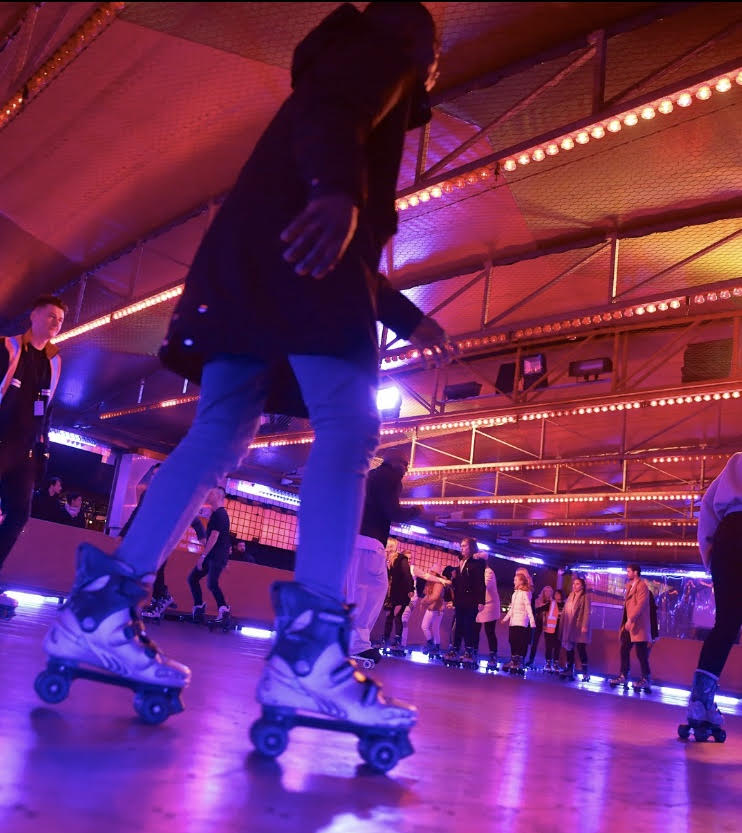 From Hire to Purchase we've got you covered
With years of experience, trust us to supply and install the perfect roller rink for your chosen event
Roller skating is an excellent way of combining fun and fitness. If you're looking to get your guests socialising, communicating and exercising, it's the perfect activity!
Hiring a roller rink for your next event couldn't be simpler with us.
Bespoke designs and branding
Our rinks can be installed on any surface you choose including grass. The roller rink then easily connects together using a rod system which when installed creates a smooth and seamless surface perfect for skating. The outer barrier system then locks into the side of the rink, keeping your guests perfectly safe. You can even install your own vinyl graphics on the barriers if you wish - they're perfect for advertising. We have worked alongside a range of businesses in the past to create fun family days out for all. Our rinks have made an appearance in town centres, youth clubs, shopping malls and community centres. Each event has always pulled in a crowd and has left everyone laughing. In short, our rinks fit all venues and all occasions! Rink sizes
The roller rink skating surface is made up of 1m2 sections, which enables us to build a rink in any shape or size and to fit any venue or location.
With our personal service, we can supply and install a rink in any shape or size you wish.
If you wish to find out more about our Synthetic Roller Rinks please email info@irvinleisure.com
---
Norwich Cathedral to feature fairground helter skelter
A full-size helter skelter is to be installed in Norwich Cathedral in August to give people a different view of the inside of the building.
Read the full article https://www.bbc.co.uk/news/uk-england-cambridgeshire-46030982
---
Natural History Museum
Natural History Museum 2019 features a Traditional Carousel and new addition this year is our brand new Alpine Sweet Unit
---
Funds raised for Brent Council
Our Summer Fairs and events raised £1,000 for Brent Council and George Irvin presented a cheque to the Mayor, Cllr Arshad Mahmood, Thomas Cattermole, Head of Executive and Members Services and the Governance Team recently.
---
Topshop Oxford Street
We had the privilege of working with Topshop Oxford Street this year installing our Dodgem & Waltzer cars in their shop for 1 week.
---
Fright Night Winner 2018
Congratulations to Renad Ahmedali the Winner of our Funfair Fright Night 2018 Competition.
Thank you to all who took part and good luck next year!
[ngg_images source="galleries" container_ids="49" display_type="photocrati-nextgen_basic_slideshow" gallery_width="960" gallery_height="720" cycle_effect="fade" cycle_interval="10" show_thumbnail_link="0" thumbnail_link_text="[Show picture list]" order_by="sortorder" order_direction="ASC" returns="included" maximum_entity_count="500"]
---
Fright Nights 2018
A reminder that every night is fright night at our Crystal Palace and Roundwood Park Funfairs, £500 prize for the best costume.
Email your image taken at the Funfair along with your name, address & telephone number to info@irvinleisure.com
GOOD LUCK!
---
Funds raised at Queensbury Park Ultimate Funfair for Mayor's Charities
This year we had the great opportunity to work with Harrow Council and Mayor, Cllr Kareema Marikar at the Queensbury Park Family Funfair and raised £500 for the Mayor's chosen charities, Firm Foundation & The Rainbow Trust Children's Charity.
We look forward to working with Harrow Council and Mayor, Cllr Kareema Marikar in the future.
---
A HUGE thank you from Children with Cancer UK
Hi George,
On behalf of all of us at Children with Cancer UK, thank you very much for allowing our guests free access to the rides at your fabulous funfair on Saturday! We are so grateful to you for helping make this day even more special. Here are some of the comments from the families who attended:
'Thank you for a great day out. It bought a smile to our little boys face after a really sick few days. We had such a lovely day!'
'Thank you ever so much for a wonderful day that we thoroughly enjoyed as a family. It was great to see joy on my little girl's face.'
Thank you once again, we really appreciate your support!
Stephanie Revell
Events co-ordinator
Children with Cancer UK
---
Kidbrooke Village Summer Fete
Hi Everyone,
We would just like to thank you all for coming to the Kidbrooke Village Summer Fete and making it such a success.
The event was attended by hundreds of local residents who had a fantastic day which was all down to you!
We look forward to having you at the event next year and hope you have a great Summer!
All the best,
Peggy
Berkeley Group
---
Team 2B UK
Hello,
I just wanted to drop you a note to say thank you again for all your hard work and partnership last week, and in the weeks leading up to the Data Night Out party at ExCel London.
The party was a roaring success and we really appreciate you being a part of it. Albert and his team were brilliant and everybody loved the dodgems - they really did look great.
Many thanks again, and we look forward to hopefully working with you again soon!
Best,
Team 2B UK
Images supplied courtesy of 2B UK (Instagram @2bukdmc).
---
Toilets added to our Funfairs
You will be pleased to know we have now acquired new portable toilets for our Funfairs for your convenience and comfort.
For a list of all our upcoming Funfairs click on our Upcoming Funfairs page or click this link www.irvinleisure.co.uk/upcoming-funfairs/
---
Chiswick RNLI Lifeboats at Turnham Green
We had the pleasure of supporting Chiswick RNLI this year at Turnham Green!
"We are very grateful for the opportunity to have a stand at your Turnham Green funfair last weekend to help raise funds and spread awareness of the safety work of the RNLI on the Thames. Thank you again on behalf of Chiswick RNLI." - David Clarke
Chiswick is one of the RNLI's newest lifeboat stations and one of four stations operating on the River Thames – the first stations to specifically cover a river rather than estuarial waters or the sea.
Chiswick RNLI is the busiest station of 2018 and is entirely run by volunteers.
To support Chiswick RNLI direct please use the info below:
BACS transfer Bank: Barclays Bank (Poole High Street Branch) Account Name: RNLI Fundraising Branches Direct Credits Sort code: 20-68-95 Account No: 93032671 IBAN is GB29BARC20689593032671 swift code is BARCGB22 Barclays Bank PLC, PO Box 44, Poole, Dorset, BH15 1YA. Please quote reference 816657 CHISWICK in the description of the transfer.
---
Happy Customer at Turnham Green
One of our Games Stalls Showmen Jeanette Bartlett at Turnham Green Sat 19th May 2018.
A regular customer asked if they could have their photo with her as she always give them a lovely prize!
---
PJ Masks at Queen Elizabeth Olympic Park
Catboy and Owlette from PJ Masks were at Queen Elizabeth Olympic Park on Saturday 28th April 2018.
Come and bring all the family on Saturday 5th May 2018 when Jake and Finn from Adventure Time join us.
Token cost only £1.20 each or 10 for £10!
---
Leo & Raph - TMNT
Sat 21st April 2018
Leo & Raph from Teenage Mutant Ninja Turtles at Queen Elizabeth Olympic Park, next up Catboy & Owlette from PJ Masks on Sat 28th April!
---
Queen Elizabeth Olympic Park Character Days
Character days at Queen Elizabeth Olympic Park have already been a huge success!
Chase & Skye from Paw Patrol joined us on 5th April and Peppa Pig on 12th April. It has been a fantastic time for all families.
Next we have Leo & Raph from Teenage Mutant Ninja Turtles at intervals on Saturday 21st April.
With a £1 entry fee and tokens costing £1.20 each or 10 for £10 and remember Tuesdays 24th April and 1st May 2018 all rides just 1 token!
Hope to see you all there.
[ngg_images source="galleries" container_ids="47" display_type="photocrati-nextgen_basic_slideshow" gallery_width="320" gallery_height="240" cycle_effect="fade" cycle_interval="3" show_thumbnail_link="0" thumbnail_link_text="[Show picture list]" order_by="sortorder" order_direction="ASC" returns="included" maximum_entity_count="500"]
---
Corporate Events
Home of corporate fair
Your team, clients and partners deserve the very best you can provide when it comes to entertainment.
Our reputation for quality equipment, professional service and safety conscious event planning has ensured a satisfied client base that includes: Honda,BMW,Microsoft,KPMG,Mobil Oil,Glaxo Wellcome and Hampton Court Palace to name but a few.
Irvin Leisure Ltd is the first choice for companies looking for reliable, professional fun fairs. We understand the exacting requirements of the corporate host and are trusted to provide the quality of equipment and service that the business community rightly demands.
Whatever you take from Irvin Leisure, no matter how many or how few items you hire, you will get the same high standard of care and attention with £10 million public liability insurance, risk assessments and full method analysis of how to provide for your event.
Whatever your budget, we will help and make sure that you get the best value for money and most excitement for your guests. Our attractions not only bring activities for all to enjoy, but they have superb lighting effects and music all included in the package. You get much more than a fairground ride when you hire Irvin Leisure!
White Knuckle Rides
For the brave or perhaps the foolish, in fact for both, we offer a wide range of superb adrenaline thrill attractions. From the giant Booster, 120 feet high this ride is based on the NASA Space Training equipment used to test astronauts, so if you are courageous enough come and try this.
We also offer the superb Miami Trip, so 16 of you can sit in a row and be rotated at high speed. If you do not want to mix your drinks, this ride will mix them up for you.
What about the Orbitor? A ride that will lift you up and spin you round, giving you a new view on life and the party; completely upside down.
Plus many many more, as seen at the Science Museum in London during 2006 when we held an exhibition called the Science of Thrill so that the impact of these rides on the riders could be fully tested and, guess what, all the best brains in British science found out that these rides scare the hell out of you!
We can provide anything and everything in the business, so contact us with your wishes and we will meet your aspirations.
Family Fun Days
You may want something for everyone so select from our family favourites. First of all the wonderful Dodgems Cars where you can bump your pals, and your boss, enjoying road range legally and safely, time after time after time. This is always the most popular attraction at every event.
Then you get other large rides such as the Twister, where you can spin and shake but stay upright, or the Jumping Frogs and Octopus which have the same fun effect.
Do not forget the Carousel, the galloping horses, which form the centre piece of hundreds of Corporate Parties each and every year.
You can try the Ghost Train and Funhouse; or the Crazy Cottage and Big Wheel plus the fabulous fairground stalls.
We have the widest range of fun for all ages.
Traditional Victorian Fayre
Now we have reached the 21st Century we find that more and more of our clients want to look back over 100 years to the Victorian era, and so they hire our Victorian attractions. We provide that atmosphere for you with our period pieces.
Centre stage as always is the Carousel. Standing proud at the heart of any function this traditional ride has provided entertainment and enjoyment for well over 120 years, and the excitement seems to grow year on year, not diminish.
Then you will find a Ferris Wheel, the traditional Big Wheel based on a design created for the centre of Paris in the year of the centenary of the French Revolution, and standing tall and proud ever since.
You could take a Helter Skelter, again following a great tradition and you will be amazed how much fun is still generated on these thrilling slides.
We have games such as the good old coconut shy and hoopla stall, plus Hook a Duck, Balls in Buckets and Mops and Cans. We provide stalls, prizes and staff for you, and all prizes meet British Standards for Safety, apart from the Coconuts which meet British Standards for nuts!
We have Victorian style children's rides and can organise entertainers for your functions who will add to the fun.
Simulator Hire
If it a modern and futuristic approach you want and need, we can provide all the best in the business for you. For instance you can hire giant simulators, rockets and cars, for 16 to 24 people where you can select from a wide range of experiences such as rocket flight, ski jumping, car racing and safaris with the simulators moving and shaking as you drive.
Alternatively you can select from our one or two player games, with racing, motorcycles, skiing, and of course in the nicest possible way shoot em ups and space wars. Do not forget the classic games such as Space Invaders now making a comeback!
Dodgem and Carousel Hire
Everyone loves the Dodgems and Carousel ride, and these can brighten up any event from a giant corporate party to a birthday celebration or wedding reception. There are many alternatives on offer, giving a wide price range depending on the size and quality of the equipment you want. Contact us and tell us a little bit about your venue and your budget and we can offer you the best value you can have.
Everyone loves the Dodgems, and ride them time and time again at any party. However what can be better as your centre piece than the traditional Victorian Style Carousel, the Galloping Horses and the traditional fairground music. Again there are many alternatives covering a wide price range, come and talk to us and let us turn your aspirations into action!
Games and Stalls
We have a wide range of fairground games from which you can select. All of these you have known and loved all your lives, such as the good old Coconut Shy, the Hoopla Stall, the Shooting Gallery, Mop and Cans, Test of Strength, and many more from which you can select.
If you wish we will provide prizes, all to BSI standards (apart from the Coconuts which meet British Nut Standards!) and you may want to think about using our round stalls as bars and food serveries at your event.
We have beautiful traditional food carts from which you can buy Candyfloss, Popcorn and Toffee Apples plus Waffles and Fairground Sweets.
Children's Rides
We have a great selection of rides for children, ranging from the ever popular Tea Cups to the super giant train ride, and everything in between.
There are old fashioned choices, such as the Chairoplanes and Swingboats, and modern options such as the Formula Car Track and Jet Planes. These are great value and great fun.
We have inflatables, giant slides and bungee trampolines
Do not forget the funhouses and other side shows in which children love to play.
Food and Refreshments
If you want to have a full fairground feel to your function, why not hire our mobile catering units to provide your food and drink? We serve hot and cold food, specialist diets such as vegetarian and Halal options, plus of course the ever popular Burgers and Hot Dogs.
We have sweet stalls, Donut counters, magnificent Costa Coffee stands, plus the Victorian Style Candy Floss and Toffee Apple Carts. We can provide any food you want, all prepared to the highest standards.
Latest Corporate News
---