News from the world of fairs
Fun Fair news from around the country
Peaky Blinders Festival
The Legitimate Peaky Blinders Festival was a blinder of a street party - full of Peakys! We had the pleasure of supplying a stage carousel and we're looking forward to next year!
---
Silverstone Classic Announced
Irvin Leisure are pleased to be apart of Silverstone Classic 2020.
The packed weekend of the Silverstone Classic provides spectacular classic motor racing on the world famous full Grand Prix Circuit, impressive track parades, infield displays from over 120 car clubs featuring more than 10,000 classic cars, plus interactive driving activities and dynamic demonstrations. There's plenty of entertainment to enjoy too, with live music from headline acts, aerial displays, a vintage fun fair, and a shopping village.
Over 1,000 classic cars take part in more than 20 races on the famous circuit – the best historic Grand Prix, Le Mans prototypes, Sports, GT and Touring Cars across 80 years of racing. It's an event for the whole family and provides the ultimate annual celebration of classic cars.
Dates from 31st July - 2nd August 2020.
More info at: http://www.silverstoneclassic.com/
---
£500 donation to the Mayor of Kingston
During the Kingston Ultimate Funfair £500 was raised through wristband profits and this has been donated to the Mayor of Kingston's Charitable Trust (which in 2019/20 is supporting 2 local charities: KCIL and Oxygen.
It is our continued commitment to support Local Councils and their charities wherever possible.
---
Helter Skelter at Norwich Cathedral
Before the day is out, I must pay tribute to a colleague in the entertainment business and Showman George Irvin - for working with The Bishop of Lynn, the Rt Revd Jonathan Meyrick - in producing this wonderfully uplifting publicity message for all concerned and the public generally - at Norwich Cathedral for the last 11 days for the 'Seeing it Differently ' project. How could you top putting a 55ft high Helter Skelter (aka "Lighthouse Slip" for those in the business) other than claiming the front page of the Daily Telegraph...? "God is a tourist attraction," Revd Jonathan Meyrick said to his congregation during the cathedral's final service with the Helter-Skelter as a backdrop. An estimated 20,000 people have visited the cathedral between 7 and 18 August, with about 10,000 riding the Helter-Skelter, the cathedral said. The Rev Canon Andy Bryant told the service a woman with cancer who visited the cathedral for quiet reflection found the Helter-Skelter "gave her a much needed distraction at a dark time of her life"... Well done George and the team - you can catch up with them at Wembley's Barham Park over the August holiday, as one of many fairs taking place in the Capital and more nationwide, marking the end of summer & the school holidays ... https://www.bbc.co.uk/news/uk-england-norfolk-49389623
---
Helter Skelter at Norwich Cathedral
George Irvin and his company Irvin leisure were very proud to be invited to install a Helter Skelter at Norwich Cathedral recently, this Helter Skelter has such a rich history as our great grandfather James Irvin started this business in the the 1800's. We have operated seven of these helter-skelter's since the 1900's so technically this makes us experts on these as we've even restored some of them. We have attended many prestigious events over the years including William and Kate's Royal wedding and it gives us enormous pleasure to be here as part of this event.
---
Irvin Leisure supports St. John's Hospice
Irvin Leisure was proud to be apart of such a great occasion and helping with raising money for St. Johns Hospice and looking forward to future events.
---
Money raised for Princess Alice Hospice
Fair's fares for Hospice funds
Hundreds of people were taken for a ride over the Easter break – and they even paid for the privilege.
A special charity day at Hampton Court Green funfair raised a whopping £2,000 for Princess Alice Hospice – the profits from a rides discount wristband scheme.
Funfair boss George Irvin, who has regularly supported the Hospice for the past few years, said he was a keen supporter of local charities wherever the funfairs visit – with the Hospice being a cause close to his heart, and one he admires.
This week, the donation was handed over at the Hospice, where Partnerships Fundraiser Beth Sadler said: "The funfair charity day is a really good idea – people can have fun and donate at the same time – and it means traditional entertainment like the bank holiday fair, is supported by families in our area.
"Generous donations like this mean the Hospice continue to provide outstanding care to our patients in the Hospice and out in the community."
Photo shows - Shane Clark from Irvin Leisure hands over the cheque to Hospice Partnerships Fundraiser Beth Sadler
---
Roller Skate Rinks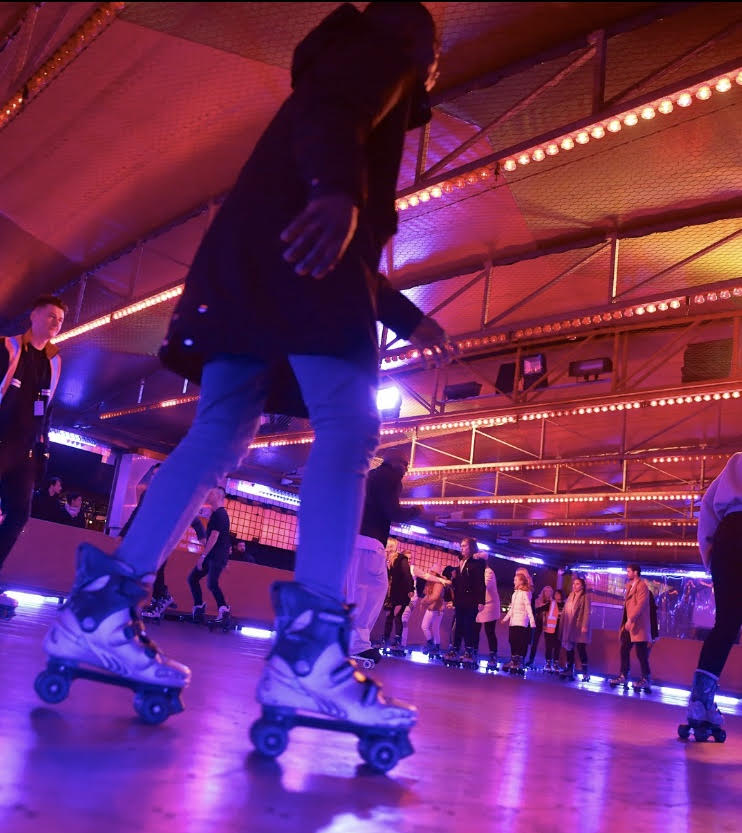 From Hire to Purchase we've got you covered
With years of experience, trust us to supply and install the perfect roller rink for your chosen event
Roller skating is an excellent way of combining fun and fitness. If you're looking to get your guests socialising, communicating and exercising, it's the perfect activity!
Hiring a roller rink for your next event couldn't be simpler with us.
Bespoke designs and branding
Our rinks can be installed on any surface you choose including grass. The roller rink then easily connects together using a rod system which when installed creates a smooth and seamless surface perfect for skating. The outer barrier system then locks into the side of the rink, keeping your guests perfectly safe. You can even install your own vinyl graphics on the barriers if you wish - they're perfect for advertising. We have worked alongside a range of businesses in the past to create fun family days out for all. Our rinks have made an appearance in town centres, youth clubs, shopping malls and community centres. Each event has always pulled in a crowd and has left everyone laughing. In short, our rinks fit all venues and all occasions! Rink sizes
The roller rink skating surface is made up of 1m2 sections, which enables us to build a rink in any shape or size and to fit any venue or location.
With our personal service, we can supply and install a rink in any shape or size you wish.
If you wish to find out more about our Synthetic Roller Rinks please email info@irvinleisure.com
---
Norwich Cathedral to feature fairground helter skelter
A full-size helter skelter is to be installed in Norwich Cathedral in August to give people a different view of the inside of the building.
Read the full article https://www.bbc.co.uk/news/uk-england-cambridgeshire-46030982
---
Natural History Museum
Natural History Museum 2019 features a Traditional Carousel and new addition this year is our brand new Alpine Sweet Unit
---
Funds raised for Brent Council
Our Summer Fairs and events raised £1,000 for Brent Council and George Irvin presented a cheque to the Mayor, Cllr Arshad Mahmood, Thomas Cattermole, Head of Executive and Members Services and the Governance Team recently.
---
Topshop Oxford Street
We had the privilege of working with Topshop Oxford Street this year installing our Dodgem & Waltzer cars in their shop for 1 week.
---
Fright Night Winner 2018
Congratulations to Renad Ahmedali the Winner of our Funfair Fright Night 2018 Competition.
Thank you to all who took part and good luck next year!
[ngg_images source="galleries" container_ids="49" display_type="photocrati-nextgen_basic_slideshow" gallery_width="960" gallery_height="720" cycle_effect="fade" cycle_interval="10" show_thumbnail_link="0" thumbnail_link_text="[Show picture list]" order_by="sortorder" order_direction="ASC" returns="included" maximum_entity_count="500"]
---
Fright Nights 2018
A reminder that every night is fright night at our Crystal Palace and Roundwood Park Funfairs, £500 prize for the best costume.
Email your image taken at the Funfair along with your name, address & telephone number to info@irvinleisure.com
GOOD LUCK!
---
Funds raised at Queensbury Park Ultimate Funfair for Mayor's Charities
This year we had the great opportunity to work with Harrow Council and Mayor, Cllr Kareema Marikar at the Queensbury Park Family Funfair and raised £500 for the Mayor's chosen charities, Firm Foundation & The Rainbow Trust Children's Charity.
We look forward to working with Harrow Council and Mayor, Cllr Kareema Marikar in the future.
---
A HUGE thank you from Children with Cancer UK
Hi George,
On behalf of all of us at Children with Cancer UK, thank you very much for allowing our guests free access to the rides at your fabulous funfair on Saturday! We are so grateful to you for helping make this day even more special. Here are some of the comments from the families who attended:
'Thank you for a great day out. It bought a smile to our little boys face after a really sick few days. We had such a lovely day!'
'Thank you ever so much for a wonderful day that we thoroughly enjoyed as a family. It was great to see joy on my little girl's face.'
Thank you once again, we really appreciate your support!
Stephanie Revell
Events co-ordinator
Children with Cancer UK
---
Kidbrooke Village Summer Fete
Hi Everyone,
We would just like to thank you all for coming to the Kidbrooke Village Summer Fete and making it such a success.
The event was attended by hundreds of local residents who had a fantastic day which was all down to you!
We look forward to having you at the event next year and hope you have a great Summer!
All the best,
Peggy
Berkeley Group
---
Team 2B UK
Hello,
I just wanted to drop you a note to say thank you again for all your hard work and partnership last week, and in the weeks leading up to the Data Night Out party at ExCel London.
The party was a roaring success and we really appreciate you being a part of it. Albert and his team were brilliant and everybody loved the dodgems - they really did look great.
Many thanks again, and we look forward to hopefully working with you again soon!
Best,
Team 2B UK
Images supplied courtesy of 2B UK (Instagram @2bukdmc).
---
Toilets added to our Funfairs
You will be pleased to know we have now acquired new portable toilets for our Funfairs for your convenience and comfort.
For a list of all our upcoming Funfairs click on our Upcoming Funfairs page or click this link www.irvinleisure.co.uk/upcoming-funfairs/
---
Chiswick RNLI Lifeboats at Turnham Green
We had the pleasure of supporting Chiswick RNLI this year at Turnham Green!
"We are very grateful for the opportunity to have a stand at your Turnham Green funfair last weekend to help raise funds and spread awareness of the safety work of the RNLI on the Thames. Thank you again on behalf of Chiswick RNLI." - David Clarke
Chiswick is one of the RNLI's newest lifeboat stations and one of four stations operating on the River Thames – the first stations to specifically cover a river rather than estuarial waters or the sea.
Chiswick RNLI is the busiest station of 2018 and is entirely run by volunteers.
To support Chiswick RNLI direct please use the info below:
BACS transfer Bank: Barclays Bank (Poole High Street Branch) Account Name: RNLI Fundraising Branches Direct Credits Sort code: 20-68-95 Account No: 93032671 IBAN is GB29BARC20689593032671 swift code is BARCGB22 Barclays Bank PLC, PO Box 44, Poole, Dorset, BH15 1YA. Please quote reference 816657 CHISWICK in the description of the transfer.
---